Persianissimo +10 : Iranian Poster Design Exhibition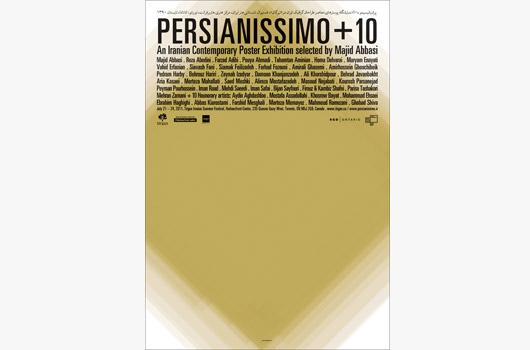 Persianissimo +10 : Iranian Poster Design Exhibition
Curator : Majid Abbasi , (Canada)
Persianissimo* exhibition is curated by Majid Abbasi and includes 34 Iranian designers + 10 honorary Iranian artists. Many of the selected designers are top international award winners, two of whom have been recipients of Icograda lifetime achievement awards and three of whom have won Icograda excellence awards during last decade. Persianissimo was first displayed at the Fort Collins Museum of Contemporary Art as "Posters by 28 Iranian Designers" during the 16th Colorado International Invitational Poster Exhibition in 2009. The exhibition is now part of the permanent collection in that museum.
Persianissimo exhibition in Tirgan 2011 has been made possible with the support of "The Association of Registered Graphic Designers of Ontario" (RGD) and "Ontario College of Art & Design" (OCADU).
Persianissimo exhibition showcases works by the following designers: Majid Abbasi, Reza Abedini, Farzad Adibi, Pouya Ahmadi, Tahamtan Aminian, Homa Delvarai, Maryam Enayati, Vahid Erfanian, Siavash Fani, Siamak Feilizadeh, Farhad Fozouni, Amirali Ghasemi, Amirhossein Ghoochibeik, Pedram Harby, Behrouz Hariri, Zeynab Izadyar, Damoon Khanjanzadeh, Ali Khorshidpour, Behrad Javanbakht, Aria Kasaei, Morteza Mahallati, Saed Meshki, Alireza Mostafazadeh, Masoud Nejabati, Kourosh Parsanejad, Peyman Pourhossein, Iman Raad, Mehdi Saeedi, Iman Safai, Bijan Sayfouri, Firouz Shafei, Kambiz Shafei, Parisa Tashakori, Mehran Zamani
And ten honorary graphic artists: Aydin Aghdashloo, Mostafa Assadollahi, Khosrow Bayat, Mohammad Ehsaei, Ebrahim Haghighi, Abbas Kiarostami, Farshid Mesghali, Morteza Momayez, Mahmoud Ramezani, and Ghobad Shiva
*Persianissimo uses the -issimo suffix from the Italian, and often borrowed in other languages, to signify the essential or highest form of the concept it describes.
Fri. & Sat. : All Day until 10:00 pm / Sun : All Day until 6:00pm
Boulevard Tent, Harbourfront center
A graduate of visual communications from Faculty of Fine Arts at the University of Tehran, Majid Abbasi has led and carried out numerous graphic design projects that cover a wide range of disciplines such as poster, book cover, and corporate identity. Majid Abbasi's works have been displayed in many group and solo exhibitions around the world and some are in permanent collection of museums in Asia, North America, and Europe. His works have been published in international magazines and books such as Creation Numerique (Paris), Domus (Milano), Etapes (Paris), Graphis and Phaidon (New York). A member of Iranian Graphic Designers Society (IGDS), Alliance Graphique International (AGI), and co-founder and editor of Neshan magazine, he has also taught at the faculty of Fine Arts at the University of Tehran.
Abbasi has made a remarkable effort in introducing contemporary Iranian graphic designers to the world by exhibiting their works in the U.S., Italy, Turkey, and Cyprus.
He is the curator of Tirgan Graphic Design Exhibition, Persianissimo +10 which includes 34 Iranian designers + 10 honorary Iranian artists.