Ticketed Events
In addition to its free events, Tirgan is pleased to present 5 premiere ticketed programs at Tirgan 2011. Tickets may be purchased online, at select Iranian shops in the GTA, and at the Harbourfront Centre box office. Please note that the over 50 free programs and events during Tirgan 2011 do not require tickets and are open to public.
Please note: Tickets purchased by phone, mail, fax or online are subject to a per ticket convenience fee; tickets purchased at shops or on-site Harbourfront Centre box office are not subject to any extra fees.
Pardis Orchestra
Music (Orchestral, Maziar Heidari - Kamelia Dara) Austria, Canada
Pardis orchestra conducted by Maziar Heidari and accompanied by soprano vocalist Kamelia Dara will perform orchestral and piano pieces of most popular Iranian melodies.
Thr. , July 21, 2011 8:30pm
Price: $25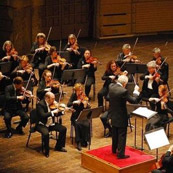 Late Night Jazz Bar
Music (Jazz, Rana Farhan ), USA
Rana Farhan and her band will present a unique blend of classic Persian poetry from Rumi and Hafez with modern Jazz.
Fri July 22, 2011 10:30pm
Sat July 23, 2011 10:30pm
Price: $30

Les Ballets Persans
Dance (Iranian Ballet, Nima Kian), Sweden

Directed by Nima Kiann, "Les Ballets Persans" from Sweden presents Canadian premier performances of such famous operas and symphonies as Turquoise Land, Gilani, and more… all inspired by Iranian motifs and choreographed on Persian music.
Fri July 22, 2011 7:30pm
Sat July 23, 2011 7:30pm
Price: $30 - $40

"Zohreh & Manoochehr"
Theatre (Musical Comedy, Shahrokh
Moshkin

Ghalam

) , France

Shahrokh directs and act in the Canadian premier performance of a musical comedy, "Zohreh & Manoochehr" by renowned Iranian poet, "Iraj Mirza" based on Shakespeare's "Venus & Adonis". The cast includes two legendary figures of Iranian Theater, Sadreddin Zahed, and Azizollah Bahadori. (Language : Persian)

Sat July 23, 2011 2pm
Sun July 24, 2011 5pm
price: $30 - $40

Tirgan Gala 2011
Location: InterContinental Toronto Centre Hotel
A night to celebrate the completion of Tirgan Festival 2011 with participating artists, literary figures, politicians, ...
Performances

- A joint performance by Shahrokh Moshkin Ghalam and Gordafarid

- Pianist Maziar Heidari accompanies soprano vocalist Kamelia Dara

- Solo Rope Dart, a fire performance by Illuminair Entertainment
Dinner + Soft Drinks
Reception Style
Sun July 24, 2011 7pm
Price: $150.00